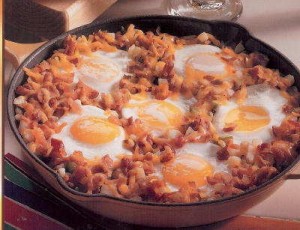 This is a good fast and easy breakfast to make on the boat. Only a few ingredients. Can be made on the stove top in a frying pan or made in an electric frying pan. If you have hungry guests onboard This is a good one. Or if you wake up to a rainy day and want to whip up something tasty while you are waiting for skies to clear.
Country Breakfast skillet 6 Bacon Strips 6 cups of frozen fried potatoes or frozen hash browns ¾ cup of green pepper ½ cup of chopped onio 1 teaspoon of salt ¼ teaspoon of pepper 6 eggs ½ cup of shredded cheddar cheese
In large skillet cook the bacon until crisp, reserving 2 table spoons of the bacon drippings Cool the bacon down and crumble and set aside Add potatoes, green pepper and onion to the bacon drippings.
Cover and cook stirring occasionally until the potatoes are browned. Usually takes 15+ minutes.
Make 6 wells in the potato mixture. Break eggs into the wells. Cover and cook on low for 10 to 15 minutes until the eggs are set. Do not stir once the eggs are put in the wells. Sprinkle with bacon and cheese.