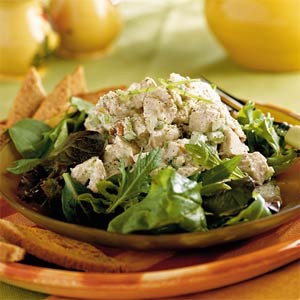 The easy way to make this chicken salad is buy a rotissorie chicken in the supermarket or use Perdue Short Cuts, which is vacuum packed pieces of white meat chicken breast. They have a long shelf life. Watch the dates on the package. Sometimes the freshness dates will be for up to 6 weeks. They come with a variety of seasonings. Italian, Honey Roasted, and more.
This chicken salad is great on tortillas, rolls, toasted white or wheat bread. Or just on a bed of lettuce with some fresh tomatoes.
Ingredients
3 cups chopped cooked chicken (about 4 skinned and boned chicken breast halves)
1/2 cup minced green onions
2 celery ribs, chopped
2/3 cup light mayonnaise
2 to 3 tablespoons prepared horseradish
2 teaspoons fresh lemon juice
1/2 teaspoon grated lemon rind
1/4 teaspoon salt
1/2 teaspoon pepper
Preparation
Stir together all ingredients in a large bowl. Cover and chill at least 2 hours before serving.